The life you have imagined is a participant in the Amazon Services LLC Associates Program, an affiliate advertising program designed to provide a means for us to earn fees by linking to Amazon.com and affiliated sites.
Happy Friday, everyone!
The 4th of July is fast approaching, and if you happen to be lucky like my husband and I, you have a long, 4 day weekend to look forward to. For today's Friday Favorites, I'm sharing my 5 favorite things to make your holiday festivities the most fun!
1. Sangria – If you know me, you know sangria is one of my favorite things. I rarely celebrate a holiday without creating some concoction of the sangria sort. I love experimenting with different flavors and fruits, so no two sangrias I make are exactly the same. The only constants? Some type of wine, some type of fruit, some kind of mixer, and my secret ingredient. For this 4th of July, here's what I would suggest:
Wine: This holiday is known for its fireworks and sparklers, so the fizzy bubbles of champagne are the perfect wine for the occasion, not to mention the color works perfectly! If you like it sweet, consider an Asti or a Brut for something dryer.
Fruits: It's the perfect time of year for fruit! Blueberries would be great for this sangria. Add in a splash of red with strawberries, raspberries or watermelon (you can even cut it into stars with a cookie cutter to be extra festive!). If you want to go the extra mile, find some star fruit to slice up and throw it in.
Mixer: If you want to keep it light on the alcohol content, you can take your pick of clear carbonated beverages (anything from club soda to flavored sparkling water to Sprite will work) and some lemonade. If you want to punch it up, consider incorporating a flavored vodka for the juice or a shandy or blueberry beer for the carbonated beverage (just remember it will affect the color).
Sugar: Traditional sangria calls for super-fine sugar, but you'll want to taste your creation before you decide. Depending on how sweet you go with the other liquids, you may not need it at all.
Secret Ingredient: This I found by a happy accident, and while I've kept it guarded fairly closely over the last 10+ years since I found it, I'm willing to share it with my loyal readers. Many sangria recipes include brandy as one of the staple ingredients. One time, while making it at a friend's house, we were without brandy, so we decided to try using the B&B we found instead. BEST. SUBSTITUTION. EVER. You may not be familiar with B&B, and you wouldn't be alone. It was largely enjoyed by older generations, and it hasn't really seen a comeback like some liquors have. B&B stands for Benedictine & Brandy, so it isn't far off the mark, though now it is mixed with cognac instead. Either way, it adds a slightly sweeter, more herbal flavor, and it's delicious! I refuse to make sangria without it.
Mix it all up ahead of time (fruit, too!) and let the flavors meld and chill in the fridge, then serve over a cup of ice and everyone will be happy!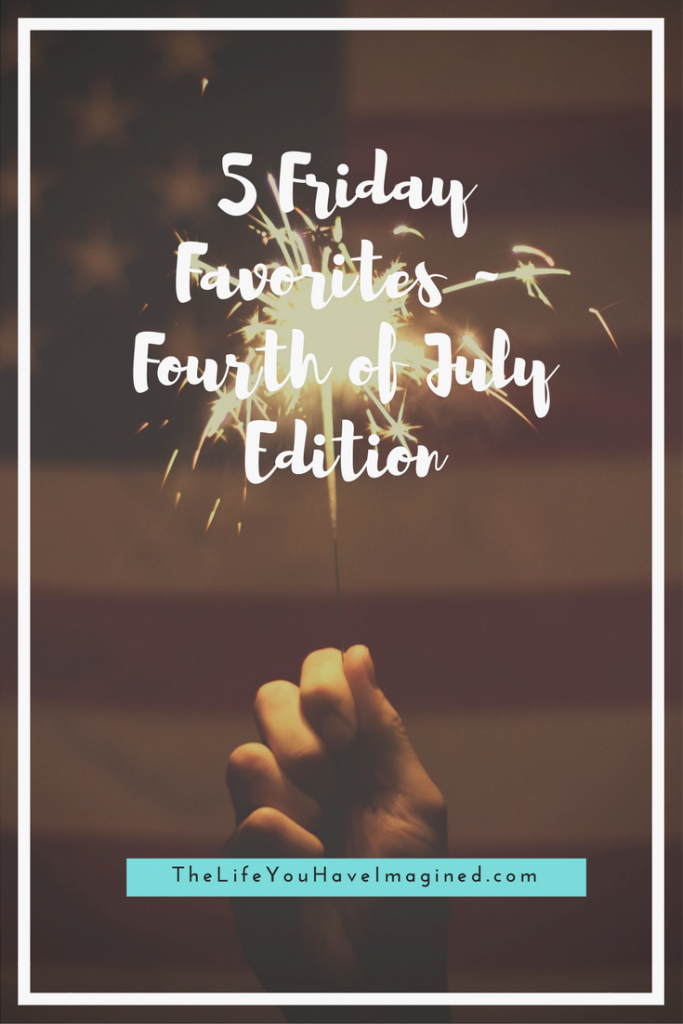 2. Fruit – It's summer, the season of fresh fruit, and we need to take advantage while we can! In addition to the sangria, I highly recommend a fruit tray, fruit salad, or fruit trifle using the red and blue colored fruits of the season. You can use bananas, too, but remember they will brown. Instead, consider whipping up a quick and delicious fruit dip with 1 part cream cheese and 1 part marshmallow cream using your hand mixer (trust me, it's amazing!) or use whipped cream and angel food cake in the trifle.
3. Decor – To throw a great holiday party, you've got to have some great decor, and the 4th of July is no different! I have to admit, I've always loved the look of the traditional bunting, but not everyone has the right architectural elements or money for it. Decor can be as simple as a few DIY crafts, some fun lighting, and colorful paper goods. I must admit for me, personally, ever since seeing the video of a sea turtle and a plastic straw, I cannot bring myself to buy anything other than paper straws, which is fine with me because they are so much cuter! Check out these adorable and affordable patriotic ones! Finally, you can go all out with flag plates, napkins, and cups, or save money with a mix and match of red, white, and blue solid paper goods.
4. Outfit – I personally am a huge fan of pulling together outfits for an occasion out of what I have in my closet, and I always have been. In college, I once dressed 5 guys friends and myself for Halloween! This is super easy for the 4th of July with just some simple wardrobe staples that can be worn anytime. With a pair of dark wash jean shorts, white canvas sneakers, jean capris, a red or blue bandana, a white cotton dress, a red cardigan, a striped off-the-shoulder tee, white tank top (with or without silver stars like mine has), silver flats, a red sash or belt, and blue flats or sandals, I can mix and match my outfit for the occasion and weather, from casual to retro to summer dressy.
5. Fireworks – No 4th of July is complete without fireworks, whether you go somewhere to watch them, fire off a few (legal) ones in your backyard, or simply enjoy the wonder of sparklers. Back home in San Diego I grew up with the Big Bay Boom, when I lived in Manhattan, I had the once-in-a-lifetime opportunity to watch the Macy's fireworks from an apartment high up above the East River, and here in Connecticut we get to watch the fireworks from SailFest exploding above us from my in-laws' sailboat in the river. I'm a very lucky girl. But no matter where I am one thing remains the same, they always bring a huge smile to my face!
I hope you all have an amazing weekend and 4th of July celebration!