Wow! I feel extremely honored to have been nominated for the Blogger Recognition Award!
This is particularly meaningful because it is an award for hard work and dedication to a blog, awarded by someone who knows just how much work it really entails, another blogger.
How did I get the award?
I was nominated by World of Nabeeda. I would like to thank her for this honor and recognition. Please swing by and visit her wonderful blog as well.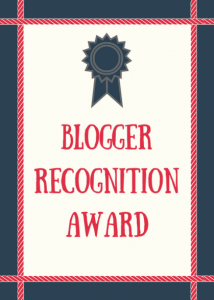 How did my blog start?
Writing has always been one of my first loves, though I had only dabbled in blogging until recently. I'd been wanting to create a place where I could share my thoughts and ideas and just exercise that writing muscle, while also potentially supplementing my adjunct income at some point. The theme for the blog just came to me like a perfect little gift one day, and I jumped right on it. Read more about it here. Thankfully, I have an amazing web master for a husband who has made this a much easier process and allowed me to really focus on the writing and promotion of the blog.
Advice for new bloggers (I'm pretty new myself, so these are some initial insights):
There is no substitute for good writing. Posts should be thoughtfully written and carefully edited. Grammar doesn't come easy for everyone, but there are some great tools out there for just that kind of situation.  

There is no "one right way" to start a blog. There is a lot of wonderful, helpful information out there for bloggers-to-be, but each blogger takes different paths to get to their destination. Find what works best for you!
My nominations: It is all about passing the award on.
All of these bloggers have put together some beautiful blogs with great content. Their time and dedication shows! Congratulations to them, and please consider visiting their sites!
Here is what you need to do now:
Thank the blogger who nominated you and provide a link to their blog.

Write a post to show your award.

Give a brief story of how your blog started.

Give two pieces of advice to new bloggers.

Select 15 other bloggers you want to give this award to.

Comment on each blog and let them know you have nominated and provide the link to the post you created.
Thank you, again, Nabeeda for this honor. Congratulations to you all.. you deserve it!
Share and spread the love!