Ice cube trays are awesome! Although they fell out of favor by way of the automatic ice maker, they are making a comeback. Not only can you now find an endless number of different shaped molds to fit any occasion or predilection, but there are also an untold number of creative ways you can use them. I've compiled and organized these 65 by food or not-food related, and most are fairly self-explanatory, but all it takes is a quick search if you need further information. I present to you…
The Ultimate Guide to 65 Ice Cube Tray Hacks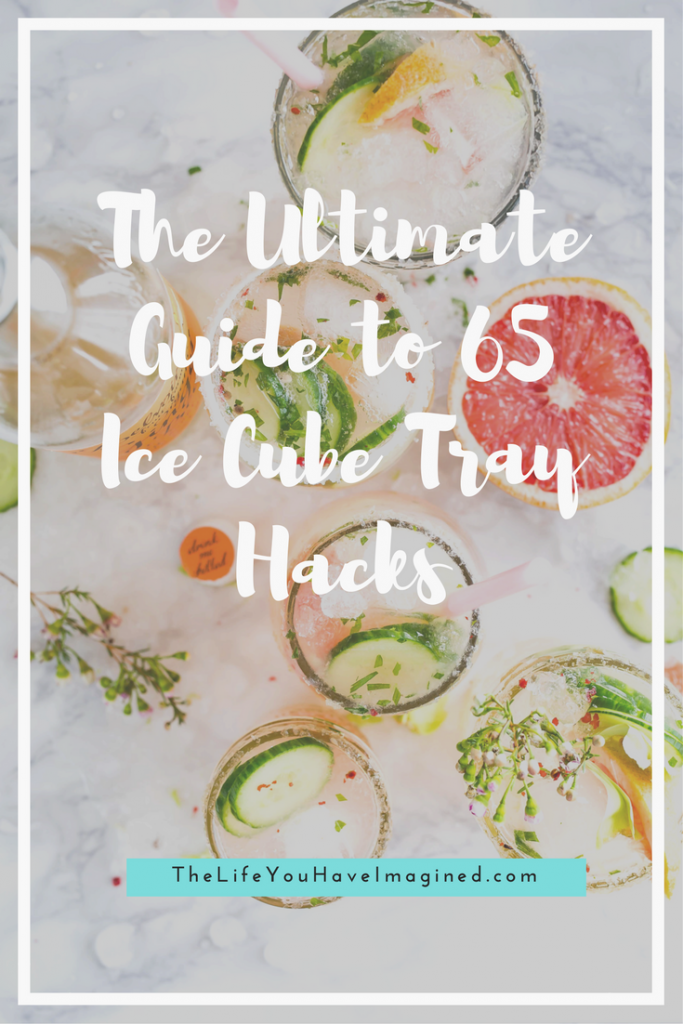 Coffee – Freeze leftover coffee into trays for your next iced coffee or drench in a little Bailey's Irish Cream.
Wine – Save that leftover wine (a rare occasion, I know!) for cooking or to throw in Sangria.
Pesto – Whip up some extra next time you make it, and save the rest for another day.
Berries and/or other fruit – Can be a pretty addition for drinks at a party or for infusing your water.
Herbs w/ oil – Great for cooking!
Chocolate candies – The options are nearly endless: peanut butter cups, pomegranate or blueberry bites, turtles, buckeyes, truffles, chocolate covered cookie dough, s'mores, chocolate/caramel/marshmallow, and more!
Herbed butter – Freeze into a pretty mold and make your guests feel special for your next brunch or dinner party.
Ravioli – With the dough and filling, trays can make great molds for making the process easier!
The Trinity – No matter the origin or type of cooking, different cuisines are generally built on different 3-ingredient trinities. Whatever trinity you use, it can be made ahead and frozen for later use.
Frozen yogurt – A great summer treat!
Smoothie cubes – Rescue ripened fruit before it goes bad as either a puree or mixed with yogurt for your next smoothie.
Milk – Another saving opportunity, whether it be cream, half and half, milk, buttermilk, or flavored coffee creamer. Freeze it before it goes bad for future iced coffees, soups, and more.
Frozen hot chocolate – Make it, freeze it, enjoy all summer long!
Fruit and simple syrup – A great combination for daiquiris, pina coladas, or frozen margaritas on the fly.
Mini-popsicles – Choose your favorite ingredients, freeze part way, add stick, finish freezing, and enjoy.
Jello – Make jigglers for the kiddos or shots for the adults.
Ice cream bites/Bon bons – Small portions to enjoy on a hot summer day, with or without chocolate coating.
Granola treats/energy bites – Granola, nuts, dried fruit, honey, agave, quinoa, seeds… the options are many.
Juice/puree – Leftover juice or fruit purees are great to add to for sparkling water for a flavor boost or to champagne for a mimosa treat.
Bloody Mary – Mix up a homemade Bloody Mary mixer or use store-bought, freeze, toss in a glass, and add your favorite vodka. Don't forget the crazy trimmings!
Bacon fat – Save after cooking and use in a later dish for a little extra flavor.
Stock – Make it while you've got the ingredients and save for later soups and dishes.
Avocado – If you're like me, you love avocados but hate seeing them go to waste, especially at current prices! Before they go bad, mash them up and freeze them for future guacamole, layer dips, and sandwich spreads.
Mint – Muddle some mint in water and pour into trays for a refreshing addition to summertime drinks like iced teas and lemonades.
Sushi – Press sushi rice into trays and top with your favorite sushi-grade raw fish or other toppings for appetizers, lunch, or dinner.
Sauce/paste – Leftover sauce or tomato paste can be saved for quick and easy dinners possibilities down the road.
Cookie dough – Pre-make and freeze for future desserts, whether you want just one or need a dozen.
Spinach/kale – Chop up in a blender or food processor and freeze for delicious and healthy green smoothies!
Gravy – Another money saver and great way to store leftovers.
Chocolate covered strawberries – Fill the tray halfway with melted chocolate, dunk the strawberry, refrigerate, and enjoy when ready.
Chocolate cheesecake bites – Can anyone say yum??
Chai/green tea – Save leftover tea to add to milk for a latte or to water for flavor and extra antioxidants.
Tator tots – Shred potatoes and make your own tots. Great for gluten-free eaters!
Rice Krispy Treat bites – Up the ante by dipping in frosting, sprinkles, or other toppings.
Candy bark – Can be made with chocolate (milk, white, or dark) or more traditional bark ingredients. Just add your favorite nuts or dried fruit.
Mashed potato bites – Pressed into fun shapes and reheated in the oven, these can be a fun side dish for the kiddos!
Applesauce – Freeze and save for healthier baking by replacing the oil.
Mojito cubes – Use simple syrup, lime juice, a lime slice, and shredded mint, pile in a glass, and just add rum.
Chipotles in adobo – Don't waste the rest of the can! Puree and freeze for later meals, instead.
Fresh lemon/lime juice – How many recipes call for fresh lemon or lime juice? Now you can make it ahead and have it on the ready.
Simple syrup – Great for cocktails, iced coffee, and more!
Caramelized onions – Make a double batch and save yourself time the next time you need them!
Roasted garlic – Yum! Roasted garlic is full of flavor and is amazing added to so many things. Freeze some up and enjoy it later.
Mini pie tarts – Some pie dough and your favorite fillings can make for delicious, bite-sized tarts.
Gummy bears – Flavored gelatin, plain gelatin, and water is all it takes to make homemade gummy bears in an ice tray. Consider citric acid if you like sours.
Pudding pops – You can't find these childhood treats in the freezer aisle anymore, so why not make your own??
Pumpkin/squash – Great for soups, pastas, and other dishes, a little fresh-cooked or canned pumpkin or squash can be frozen for when you need a little… or a lot!
Glow-in-the-dark ice – Who says ice has to be boring? Ice cubes made of tonic water (or tonic mixed with water, lemonade, etc.) will glow bright blue under a blacklight. Great for Halloween parties! (Other great Halloween ice ideas include freezing gummy worms or clean plastic spiders into the ice!)

Image by Christen Brewer at http://www.greenappleartist.com/

Flowers – Moving on to non-food related ice tray usage, one option is to freeze flowers into the ice. This can be a beautiful decoration in a champagne bucket or other open beverage cooler. If you choose to use them in drinks, make sure the flowers are edible.
Paint tray – Put a different color in each well and have your child go to town creating their next masterpiece!
Lemon juice/wedges and vinegar – Frozen together and dropped into a running disposal, these are great for cleaning and deodorizing the kitchen sink garbage disposal.
Eye de-puffer – Chop up a little cucumber and mint, freeze into some water, and help de-puff eyes after a night of too little sleep or too much drinking.
Scented wax melts – Create your own wax melts with a pretty design tray, some wax, and your favorite essential oils.
Seed starter – Drill small holes in the bottom for run off, pack with soil, and plant your seeds to get a jump start in the spring on your summer garden.
Aloe vera – Freeze aloe for a natural way to cool off and treat a sunburn.
Sugar scrub cubes – Choose between olive or coconut oils; white sugar, brown sugar, or coffee grounds; essentials oils; and more to perfect your very own, very favorite body scrub.
Toddler lunch – Fill each well with a few bites of a different food and let kids enjoy the fun of the sensory experience and variety of flavors!
Pupsicles – A few dog-friendly ingredients like peanut butter and banana mix to become a delicious frozen treat dogs to enjoy in the summer heat.
Coconut oil bath bombs – All it takes is two simple ingredients… melted coconut oil and essential oil, molded, chilled and ready to relax your stresses away.
Earring storage – If you're an earring freak like me, ice cube trays make for great ways to organize and store your baubles, sortable my metal or color!
Seed bombs – Seed, clay, compost, and water combine together to make wildflower seed bombs for planting. Just be sure to use seed native to your region.
Crayons – Save those broken crayons by melting them into new crayon shakes, or combine multiple colors for a DIY rainbow crayon!
Tea lights/floating candles – Wax and wicks (and perhaps an essential oil or two) are all you need to make your own tea lights and floating candles – particularly fun with different shaped molds.
Ice chalk – A fun summertime activity for kids involves drawing or painting with ice chalk. And easy to clean with a run through the hose afterward.
Bird seed/fruit/suet – On the flipside, a neat wintertime activity is making bird treat ornaments with fruit and seed (and a little water), frozen into fun shapes with a loop of twine to hang on trees. You can even try making your own suet.
Happy freezing and nifty tray-mold shopping!