Our last travel spotlight focused on a fun town in the upper Northeast part of the United States. This week, I'd like to bring you all to the opposite corner of the country to the town of Encinitas in the coastal Southwest, another place close to my heart.
I used to be one of those rarities you hear about – a native San Diegan, born in Balboa Naval Hospital and raised (aside from a couple brief stints before I was 4) in Spring Valley. At nineteen, I decided to check out life on the East Coast and headed to Connecticut for college, but for grad school I moved back to my home county, this time living it up and sharing space with a band along the coast in Del Mar and Encinitas. The experience left a mark on my soul.
After grad school, life took me back to the East, but it wasn't long before the salty, serene lifestyle of Encinitas called to me once again. And though I don't live there now, it might be my favorite town in this country, the place I hope to return to permanently some day.
The things that make Encinitas a wonderful place to live are the same things that make it a perfect place to visit. It has all of the natural beauty, coastal lifestyle, and beach culture as other North County towns without the pretension or being too far from downtown.
Whether you are planning to visit or are thinking of moving to San Diego, I highly recommend checking out my 10 favorite things in the City of Encinitas: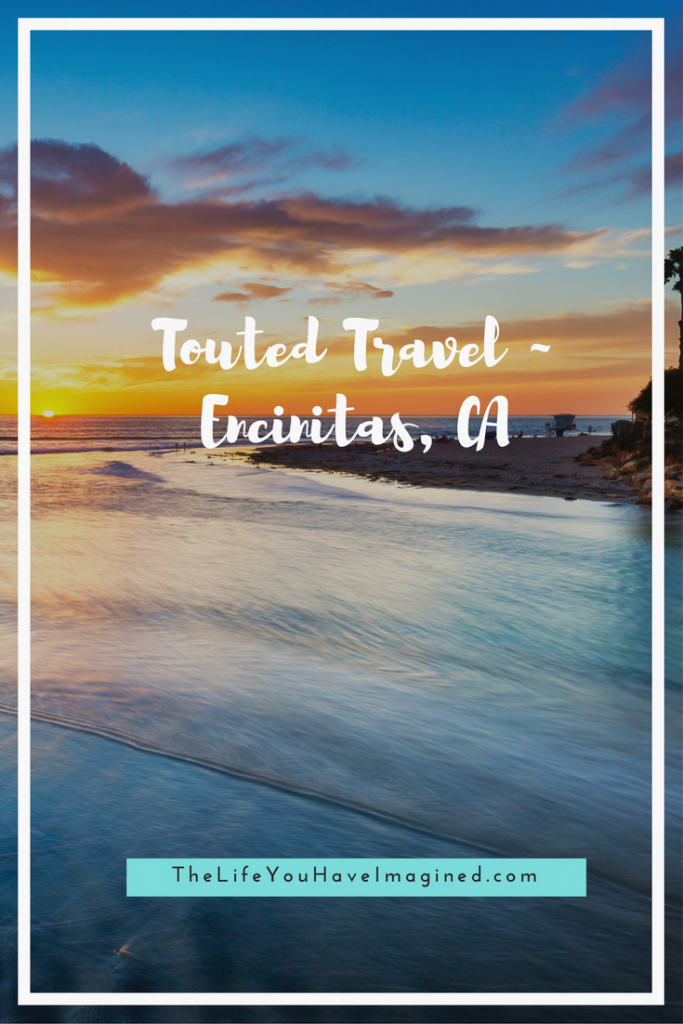 1. Camp at San Elijo State Beach. Imagine waking up and stepping out of your tent or camper and seeing the ocean stretched out before you. You pour a cup of coffee and drink it as you listen to the waves crash on the shore below. This is camping on San Elijo State Beach, part of the California Parks Department. Being up on the cliff above the ocean provides spectacular views while providing privacy from the beach-goers beneath you. Where else are you going to get this view for $35-75 per night (2017 prices)?
2. Take surf lessons. While you're there, consider taking a surf lesson from the Eli Howard Surf School, located right there on the campground. Options include day classes or even overnight surf camp.
3. Eat at Pipes Cafe. After a morning of surfing, consider walking across the street and railroad tracks to my favorite beach breakfast bistro. Pipes is delicious, affordable, and dog-friendly. When you walk up, there will probably be a line stretching down the sidewalk, but it moves fairly quickly and is well worth the wait. The egg burritos, french toast, egg sandwich, and fresh squeezed orange juice are my favorites. Try to snag a table outside and don't forget to pick up an amazing specialty coffee from the coffee bar on the deck.
4. Pick up provisions at Seaside Market. Right across the street from Pipes is a lovely local market with wonderfully fresh seafood, meat, veggies, and cheeses to keep you fueled back at your campsite. Be sure to snag some "Cardiff Crack," their mouth-watering marinated tri-tip. You can even grab some wine to drink around the fire.
5. Go to the beach. With 6 miles of coastline, not spending time at the beach would be quite a shame, and there are several to chose from. Moonlight Beach is one of my favorites, with a little something for everyone, including a playground for the kids, volleyball and tennis courts, a snack bar, lots of sand, ADA accessibility, bonfire rings, equipment rentals, picnic tables, and more. Other great options include Swami's (particularly popular with surfers), Grandview, Beacon's, Stonesteps, and D Street.
6. Go for a walk, jog, or run with a view. Start by parking in the lot above Swami's and hit the pavement heading south for a roughly 2.5 mile (each way) workout with spectacular views of the ocean. Once you reach the sculpture of the "Cardiff Kook," in front of San Elijo, turn around and head back to stretch and cool down in the shady park where you started.
7. Visit a garden. Encinitas is the self-proclaimed flower capital of the world, so it seems fitting that it has two gorgeous gardens. One of them is the Self Realization Fellowship Meditation Gardens on the cliffs above Swami's. This free garden is known for its koi ponds, panoramic ocean views, and reflection spots and is part of the larger Self-Realization Fellowship founded by "Father of Yoga in the West," Paramahansa Yogananda. If you're interested in trees, plants, flowers, water features, sculptures, and a couple of children's gardens for playing, then the San Diego Botanic Garden is the perfect place. Although there is an admission fee, the park boasts 30 different garden-scapes, including a bird and butterfly garden and a tropical rain forest. Watch for the Garden of Lights in December!
8. Eat, drink, shop, and be merry. Pop into Old Encinitas and wander down the sidewalks along South Coast Highway 101, stopping to window shop, grab a drink, catch a movie at the historic La Paloma theater, or snap a pic of the Encinitas sign. One of my favorite stops is Trattoria i Trulli for some homemade pasta.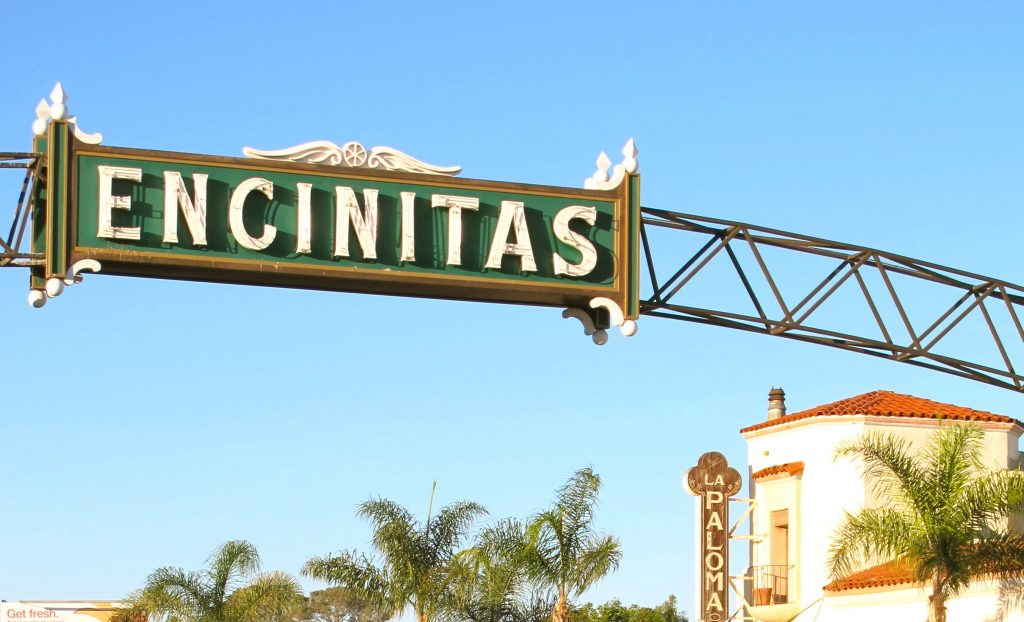 9. Enjoy a local craft beer or a glass of wine. San Diego has become quite well known for its explosion of craft beers, and Encinitas is joining in. You can currently find local breweries at Lost Abbey and Oggi's, with Modern Times Beer coming soon. There are also several establishments featuring local beers on draft and in bottles, such as Encinitas Ale House, The Bier Garden of Encinitas, Union Kitchen & Tap, Priority Public House, and The Craftsman Tavern. Plus, The Brewer's Taproom is expected to open soon and feature hard to find beers from Nano breweries in Southern California. If wine is more your thing, check out Solterra Winery, Wine Steals, or The Third Corner Wine Shop & Bistro.
10. Drive the 101. Like me, you may never want to leave Encinitas, but you really can't go wrong taking a scenic drive down the 101 and experiencing some of the other many options North County has to share. The opportunities are endless!
No matter which of the 5 Encinitas communities you're visiting, Old, New, Olivenhain, Leucadia, or Cardiff-by-the-Sea, you're just steps or a short drive away from some of the best activities that coastal San Diego has to offer.