It's nearly spring! The trees are budding, the days are getting longer, and the weather is warming up. For those of you stuck in snowy climates like me, we're feeling the itch to get out of the house and our winter coats and into some sunshine and flip flops!
Spring is also the perfect time to start thinking about a road trip. I have put in my fair share of miles, having crossed the country seven times and made numerous shorter trips in between. There is just something about rolling the windows down, turning the radio up, and experiencing some of the great things this country has to offer, not to mention the potential savings for larger groups or families. Whether your trip is about the ride or the destination, I have some useful tips to share.
Decisions, decisions:
1. Why road trip? The first thing to decide is whether you want to get there as quickly as possible or if you're all about the journey. This will affect everything from stops to snacks and more. Driving can be a cheaper alternative to flying for families or groups trying to get somewhere specific. Or it could also be a fairly inexpensive way to take it slowly and see the country. When my husband and I travel along the East Coast, we usually drive to save some money because we can get to most places within a day, but when we travel to visit my hometown of San Diego, we fly because paying airfare for two is worth the time saved in the journey.
2. Who's coming? Deciding who's coming along for the ride is the next thing you'll want to figure out. If the travelers are a group of friends going on a whim, it could influence the destination. If kids or pets are involved, it can affect driving times, stops, and more.
3. Where to? The next thing to figure out is where you're going. It's an obvious answer for people heading to a specific location for a reason, but a little more flexible for someone just out to take in the sights.
4. For how long? Knowing who's coming along for the ride will also help determine how long you can go for and how many things you can see along the way. The trip will need to fit in with everyone's lives and responsibilities. Don't want to deal with figuring that all out? There is always the option of being the trip organizer and inviting others along for the ride if their schedules allow. Though it's still important to be at least a little flexible.
5. How much? Knowing how much you have to spend can help with decisions of where to stay or eat, how much food to pack, and more. Will you stay at hotels or camp along the way? Having someone(s) to split costs with can help and could even mean driving straight through to avoid lodging costs altogether. Don't forget to plan for any tolls along the way!
6. Map it! Once you have the basics down, it's time to map the trip. Plug it in to Google Maps, RandMcNally.com, Roadtrippers.com or something similar. Get a feel for what's along the way, how long it will take, and where it might make sense to stop.
7. Check it out! Once you know what's around, talk to your group and decide where you'd like to make stops. Are you planning to visit with family or friends along the way (a great way to visit and save money) or are you more focused on visiting specific cities or sights? Have each person make a list of the three things they most want to see and then try to whittle the list to something manageable to the length of your trip. Booking hotel rooms or camp sites in advance can help you avoid last-minute headaches, too.
8. Is it worth it? One important thing to keep in mind when deciding to go off the route for a specific location is whether or not it will be worth it. You'll want to weigh the time and benefits of the detour to decide. Would it mean arriving too late to really enjoy it or can you afford to stay an extra day?
9. Drive time. Ask yourselves how much time you want to spend driving versus how much time you want to spend taking in the sights. If your final destination is far away, driving time could vary depending on whether or not kids are in the car or whether you're not planning any stops on the way to the destination. A nine hour driving day (about the same as a typical workday) could be pretty effective for making headway while still allowing some time to catch a good dinner, walk around downtown, hit the hotel pool, or relax before sleeping to prep for the next day. Drive time can also be influenced by the number of people taking turns behind the wheel.
10. When to start? Another important factor to decide is when to leave. Depending on your geographic location and the purpose of the trip, it might be better to get on the road at 4 am before rush hour or 9 am after it's over. It might even be worthwhile to leave at 8 or 9 pm if you're in a rush and have to travel through several metropolitan areas such as New York, New Jersey, and Washington, D.C.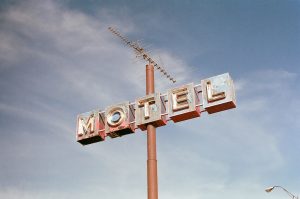 Prep time:
11. Which car? Now that you've figured out the details, it's time to start preparing. One of the biggest components of a road trip is, of course, the vehicle. If you choose to rent a car, you'll want to be sure all drivers have valid licenses and insurance. If you plan to take your own, it's also time to clean it out, give it a wash, and make sure it's mechanically sound with a recent oil change. Consider getting AAA. It can get you some good discounts on hotels and attractions and help you out with a flat tire.
12. Pack it! It's time to create a packing list to make the job a little easier and more stress-free. Don't forget to add sunglasses, sunscreen, cameras, charging cords, bathing suits, and any other specifics you might need. Don't forget cash or your EZ Pass for the tolls.
13. Play it! Almost as important as a packing list is a playlist. The perfect playlist will help keep everyone upbeat, excited, and awake.  You can check out my Ultimate Road Trip Playlist, use Spotify to create a playlist that everyone can add to, or have each person make their own and take turns. It's also a good idea to have backups in the form of CDs or something similar just in case!
14. Road food. Snacks, drinks, and other things will be determined, to some extent, by the length of trip and budget. Shorter trips can get away with a combination of sweet and savory snacks, options for high protein and energy or some sugar. Drinks should include a mix of caffeine options and water or electrolytes. Groups on longer trips or trying to save money can opt to pack a cooler with milk for cereal and pre-made sandwiches, leaving only dinner to buy.
15. Charge it! The final piece of prepping is to make sure you have all your devices charged and ready, extra charging cords, power banks, or batteries if needed, and any apps downloaded for the trip. Helpful apps can be anything from maps to Yelp to games you can play if you get bored. Don't forget to include things that can keep the driver interested while still focused on the road.
Time to go:
16. Take breaks! Everyone's packed and piled into the car. It's time to hit the road. Planning for stops every three-four hours or so gives everyone time to get out, stretch, use the bathroom, buy additional food or drinks, gas up, and switch drivers if need be. If you've built some sightseeing into your rest stops, great! There's a lot out there to be seen!
17. The unexpected. It's also important to expect (and make room for) the unexpected. Traffic jams, spontaneous detours, and bad weather are all things that can put a bump in your road. The important thing is to be flexible and make the best out of the situation. Don't be afraid to mix it up if things go a little unexpectedly. Sometimes, that's half the fun.
Last thoughts:
18. No group required. You do not need to have a partner, family, or group to go on an epic road trip. One of the best road trips I've ever been on was solo, leaving San Diego and stopping in cities I'd always wanted to see: Phoenix, Austin, New Orleans, Orlando, and New York. Don't be afraid to go it alone. Just remember to be smart and be safe.