The life you have imagined is a participant in the Amazon Services LLC Associates Program, an affiliate advertising program designed to provide a means for us to earn fees by linking to Amazon.com and affiliated sites.
It's another glorious Friday, and I'm back to share my 5 Friday Favorites. Today, in honor of an annual friends camping trip I'll be enjoying this weekend, I'm excited to share my 5 favorite camping hacks for a great time.
As I've mentioned before, I love to camp. There is just something about sitting around the campfire with friends for the weekend that recharges me, whether it be being out in nature, escaping the usual weekend obligations, enjoying the company, or, most likely, all of the above. 
Just to clarify, these hacks are intended for car campers, where people can load all their things in the car and drive right up to the site, though I still use them when we're canoeing to our camping spot. They are definitely not intended for people who have to hike to their spots.
1.  Sleeping. For me, the most important part of my day is a good night's sleep, and the same holds true for camping. How much fun can you have if you're stiff, tired, or cranky from sleeping on the ground? As such, my number one camping essential is an air mattress. In fact, we just upgraded to a double high air mattress, which I think is brilliant. My husband and I found one at a great price, so we had to get it, knowing that it will eliminate worry over losing a little air or waking up with the clambering out of the low bed or someone's butt hitting the ground when one of us has to get up to use the restroom.
The problem with sleeping on an air mattress is that it can get cold! The air inside the mattress takes on the temperature of the air outside, and if you're camping in Maine or in the desert, or not in the heat of summer, that air can be cold! However, I've found that this is an easy problem to fix. All one needs is some extra warmth between their body and the mattress. Here's how I do it. First, I roll out and completely unzip a sleeping bag, then lay it out on top of the air mattress with the cozy flannel side up. Over that, I tug on a fitted sheet to help keep the sleeping bag in place. T-shirt sheets are great for this because they're soft, breathable, and comfy without breaking the bank. The bed can then be finished off with a regular sheet, pillows, and either another sleeping bag opened up on top or a big, cozy comforter.
2.  Food. One of the best things about camping is enjoying some tasty and fun eats. My husband and his family have a camping tradition that I never even thought possible while camping – making fried dough! It's actually much easier than it sounds. First, we pick up a bag of bread dough from the freezer section of the local grocery store. It usually comes in a package of five loaves. Then we pop it in our cooler early Friday morning and let it do its thing. As the dough begins to thaw, it also begins to expand (or rise) in cooler. This in itself can be entertaining as the dough tries to find ways to escape the bag and/or cooler. By Sunday morning, it is ready to be made into breakfast.
Our set-up usually consists of a small, one burner stove with a deep skillet on top and a pair of long-handled tongs. The skillet is filled with about two inches of vegetable oil on medium-high heat until a small bit of bread dropped in the pan sizzles. The dough is then torn or cut into pieces about the size of a pool or billiards ball, stretched out some, and placed in the oil to fry until golden brown. Once done, the fried dough can be adorned with numerous toppings, like butter, syrup, powdered sugar, jam, peanut butter, cinnamon, nutella, and more. Or, make them in the afternoon and cover with savory sauces like marinara. Either way, they will be a huge hit!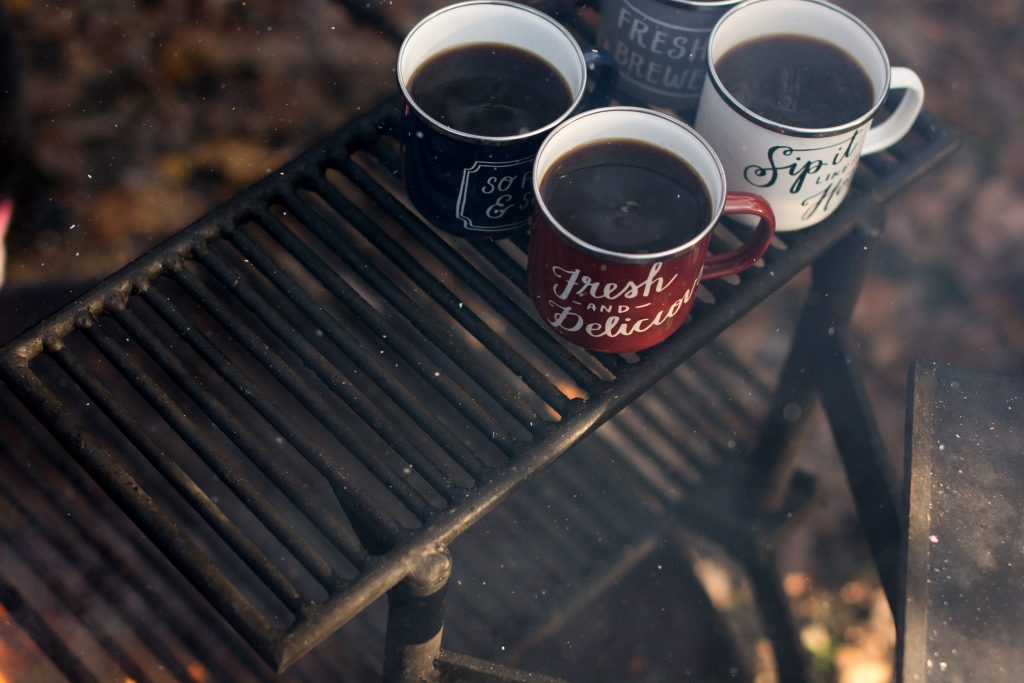 3.  Coffee. If you're anything like me, your morning cup of coffee is one of the best parts of your day. Because of this, I refused to believe that camping coffee couldn't be as good as the coffee I made at home. Thankfully, there are lots of people out there who've invented things to make sure this is true. Depending on your preference, you can enjoy pour over or french-pressed coffee without having to worry about breaking the glass elements you might use at home. You can even make espresso without lugging a huge machine around. One of my favorites is making cold brew at home ahead of time and bringing it along in a beverage dispenser or pitcher. Or, if you're packing extra light, you can still get a delicious cup of coffee without the chemicals of instant with Starbucks' micro-ground Via packets; just add water. 
4.  Fun. What's the point of camping if you don't have fun?? There is a lot to be said about breaking out a few packs of glow necklaces around the campfire, turning up the music on your favorite waterproof speaker, and having a dance party. Other opportunities for fun include yard games like bocce ball, Kan Jam (or GLOWING Kan Jam!), and ladder ball. One of our favorites that we will definitely be playing this weekend includes making two teams and alternating them in a circle around the fire in our camp chairs, then battling it out while passing Catch Phrase around the circle. Keeping score ensures the game goes well into the night!
5.  Other Essentials. There are a couple other things that I recommend for the ultimate, enjoyable camping trip. One of these is using frozen water bottles in place of ice in your cooler. I prefer to use one or two big gallon-sized bottles mixed with some smaller bottles. The big bottles will stay frozen longer, and the small bottles are available for drinking and refilling from the larger bottles. This also makes such a great space saver!
My other favorite recommendation is marking tent cords with solar light stakes. Not only will they make it easier to locate your tent at night, but they will also help ensure you don't trip over the cords while moving around it during both day and night.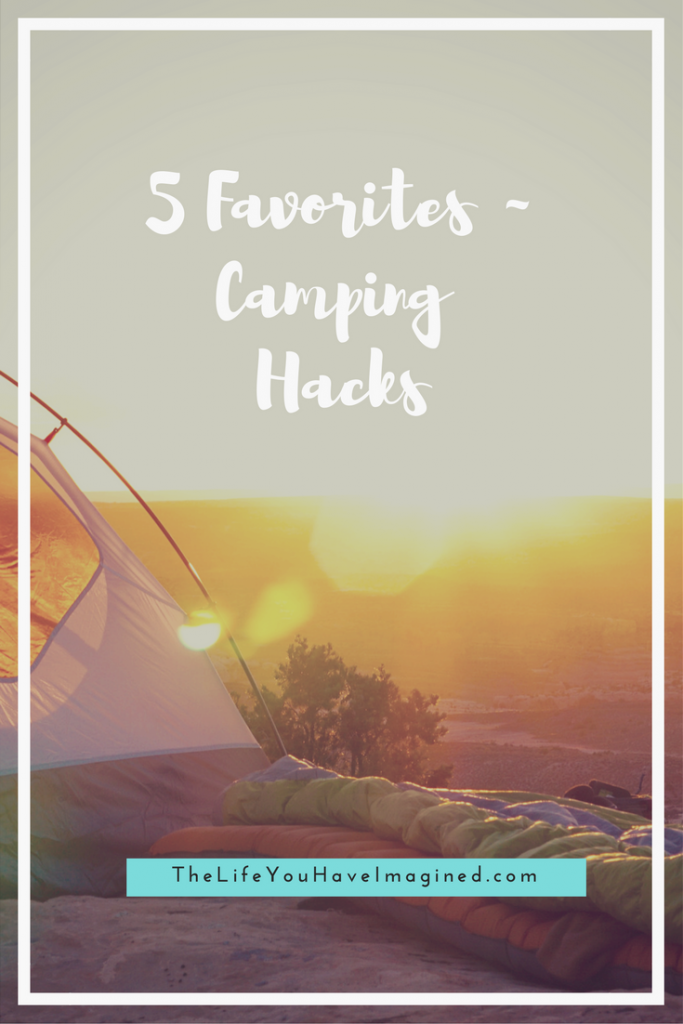 Whether you spend it camping or maybe crossing off some other items on your Summer Bucket List, I hope you all have a wonderful, fun-filled first weekend of Summer!